Sexual Harassment at FDIC, Banking Rules Have Changed–America's "Moral Authority"? What Does That Even Mean Anymore?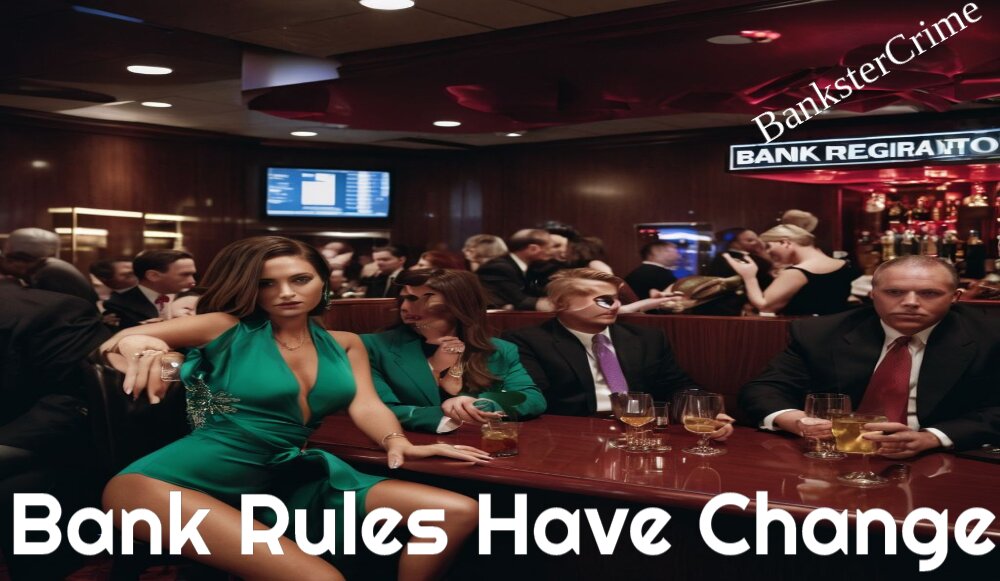 BanksterCrime:
By Pam Martens and Russ Martens:
Last Tuesday the U.S. Senate Banking Committee convened for a hearing to take testimony from the key federal banking regulators – ostensibly to get more clarity on why the second, third and fourth largest bank failures in U.S. history had occurred this past Spring and to learn what regulators were doing to restore public confidence in the banking sector.
But instead of dealing with critical banking issues like the safety and soundness of the U.S. banking system, one Republican Senator after another used big chunks of their allotted time to talk about a Wall Street Journal article that had conveniently appeared just the day prior with the clickbait headline: (Paywall) "Strip Clubs, Lewd Photos and a Boozy Hotel: The Toxic Atmosphere at Bank Regulator FDIC."
While the allegations of sexual harassment at the FDIC are serious and should spark a thorough investigation, it's the job of the U.S. Equal Employment Opportunity Commission (EEOC) to launch investigations and make findings in such matters. Senators can also ask the Government Accountability Office (GAO) to conduct an investigation and issue a report, as it has done in sexual harassment cases at numerous other federal agencies.
A different agenda appeared to be at play in the hearing. Martin Gruenberg, a Democrat, has been the Chair of the FDIC since January and is actively pursuing higher capital rules for the largest banks. (No community bank would be impacted by the proposed rules.) Toppling Gruenberg would leave an evenly split vote when the FDIC votes on the new capital rules, with two Republican votes and two Democrat votes on the Board. Since it takes a majority vote to finalize a rule, the new capital rules would very likely not go forward – an outcome for which Wall Street's mega banks have heavily lobbied and bankrolled with millions of dollars.
Some of the Senators' feigned shock and outrage over sexual harassment at the FDIC appeared tightly scripted. Senator Cynthia Lummis, a Republican from Wyoming, had this to say to Gruenberg at the hearing:
"We know some of the employees who harassed women at the FDIC found employment at other agencies. Great! Send them elsewhere instead of oust them from the system…
"The careers of women have been stalled out; and the culture is skanky at the FDIC! It's disgusting!"
"Oust them from the system" is such a novel concept from the Party of Trump.
Lummis is the same individual who supported Donald Trump despite 16 women's claims of sexual assault or unwanted physical contact. Lummis supported Trump for President despite his Access Hollywood video admission where he confessed to the following:
"I just start kissing them. It's like a magnet. Just kiss. I don't even wait. And when you're a star they let you do it. You can do anything…Grab them by the pu**y. You can do anything."
In May, Donald Trump was found guilty by a jury for sexual abuse, battery and defamation of E. Jean Carroll over sexually assaulting her in a Bergdorf Goodman dressing room. (Read the Judge's analysis of why Trump effectively "raped" Carroll here.)
Republican Senator John Kennedy of Louisiana has been a strong supporter of Donald Trump, ignoring the sexual assault charges that have been brought against him. Kennedy's hypocrisy was over-the-top at last week's Senate Banking hearing, where he had this to say to FDIC Chair Gruenberg:
"What the hell's going on at the FDIC?" …I find this incredible…
"You and your colleagues ought to hide your head in a bag. This is no country for creepy old men."
Obviously, Senator Kennedy has not been paying attention to the JPMorgan Chase federal court case where the bank was charged by Jeffrey Epstein's victims and the Attorney General of the U.S. Virgin Islands for financing Jeffrey Epstein's sex trafficking ring where underage girls were sexually assaulted by billionaire, ultra wealthy and politically-useful "creepy old men."
Where is the shock and outrage from these members of Congress sitting on the Senate Banking Committee when children are sexually violated for more than a decade while the largest federally-insured bank in the United States facilitated the money laundering required to keep the sex ring for "creepy old men" going. (See our report: New Court Documents Suggest the Justice Department Under Four Presidents Covered Up Jeffrey Epstein's Money Laundering at JPMorgan Chase.)
Where is the Republican outrage that Donald Trump is now the Republican Party's leading candidate for the highest office in the United States – despite his indictments on 91 criminal charges?
As Senate Republicans focus their shock and outrage in every direction except Donald Trump, the U.K. news publication, The Economist, featured a dark silhouette of Trump on its cover, writing the following inside:
"This is a perilous moment for a man like Mr. Trump to be back knocking on the door of the Oval Office. Democracy is in trouble at home. Mr. Trump's claim to have won the election in 2020 was more than a lie: it was a cynical bet that he could manipulate and intimidate his compatriots, and it has worked…
"A second Trump term would be a watershed in a way the first was not. Victory would confirm his most destructive instincts about power. His plans would encounter less resistance. And because America will have voted him in while knowing the worst, its moral authority would decline."
America's "moral authority"? What does that even mean anymore?
Revelation: A Blueprint for the Great Tribulation




Will Putin Fulfill Biblical Prophecy and Attack Israel?