Google Is Every Bit as Evil as the German Companies That Helped the Nazis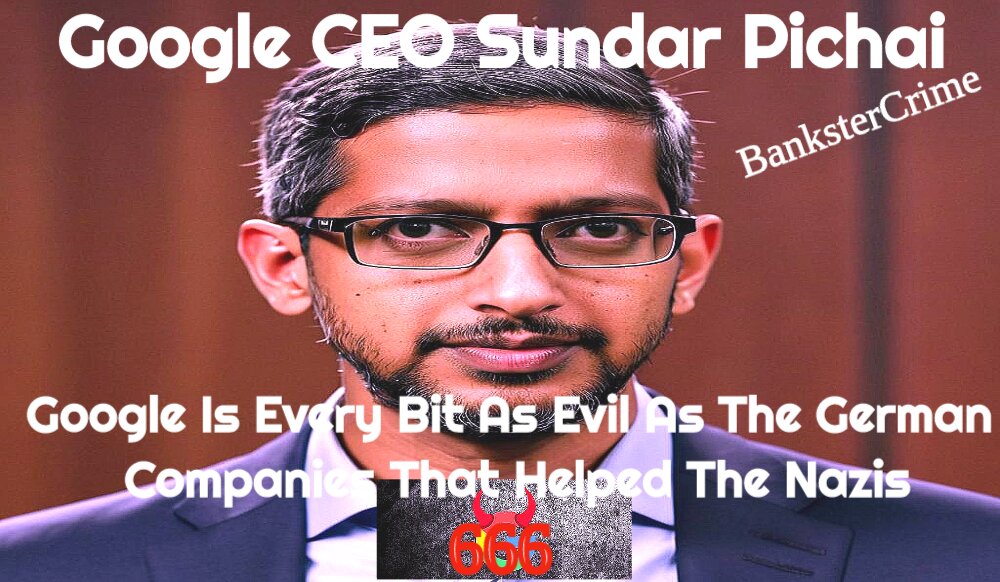 BanksterCrime: Along with Microsoft, Amazon, and many other IT companies, Google also works as a government contractor. Technology now rules the nation, not the government. Every system required for basic survival is computerized and depends on the technology sector to operate. Google secured a portion of a sizable cloud contract from the CIA in November 2020. Thus, suing Google is merely a smoke screen. The Highway To The Anti-Christ.
Before a recent intense 75-minute questioning session before a federal court in San Francisco, Google CEO Sundar Pichai was questioned about the Google Play Store's purported antitrust violations. His evidence is included in Epic Games' second antitrust case against the internet behemoth.
According to Fortune, Google CEO Sundar Pichai recently testified for a heated seventy-five minutes in a federal court in San Francisco over the ongoing antitrust case that Fortnite producer Epic Games is bringing. Pichai's demeanor in court was characterized by a blend of composed justifications and irritation during rigorous interrogation.
The claims made by Epic Games against Google's Play Store payment processing system are the main focus of the trial. According to Epic Games, Google's practice of keeping a 15–30% commission on in-app purchases amounts to an illegal monopoly that harms customers and stifles innovation in the software development sector. Epic claims that this method uses Google's monopoly on the market to stifle competition in the Android app stores, driving up costs and stifling new ideas.
Pichai's testimony is significant since Google is currently being sued for identical antitrust offenses in a different trial in Washington, DC. Concerns about Google's enormous influence and its ties with Apple, another tech giant, are prevalent and are highlighted by both trials.
Pichai upheld Google's policies during his testimony, highlighting the rivalry between Apple's iOS and the Android operating system. He made the argument that the intense rivalry that exists in the Google Play Store helps customers by increasing options and bringing down costs. Pichai claimed that because they either don't sell digital goods or don't make enough money to qualify for commission fees, 97% of software developers with apps on Google Play do not pay any fees.
Pichai also emphasized Google's large investment in the Android operating system, which provides a substitute for Apple's iPhone, and the OS's free distribution to manufacturers, such as Samsung, in exchange for Google services being pre-installed.
The intricate financial agreements between the biggest tech companies were also made clear by the court cases. There are now more concerns over the level of competition between Google and Apple when it was revealed that in 2021, Google shared a sizable amount of its ad revenue from Safari search searches with Apple.
Reporter Lucas Nolan covers online censorship and free expression for Breitbart News.
Revelation: A Blueprint for the Great Tribulation




Will Putin Fulfill Biblical Prophecy and Attack Israel?