Bank of America's Deposits Fall, But at Slower Pace than JPMorgan Chase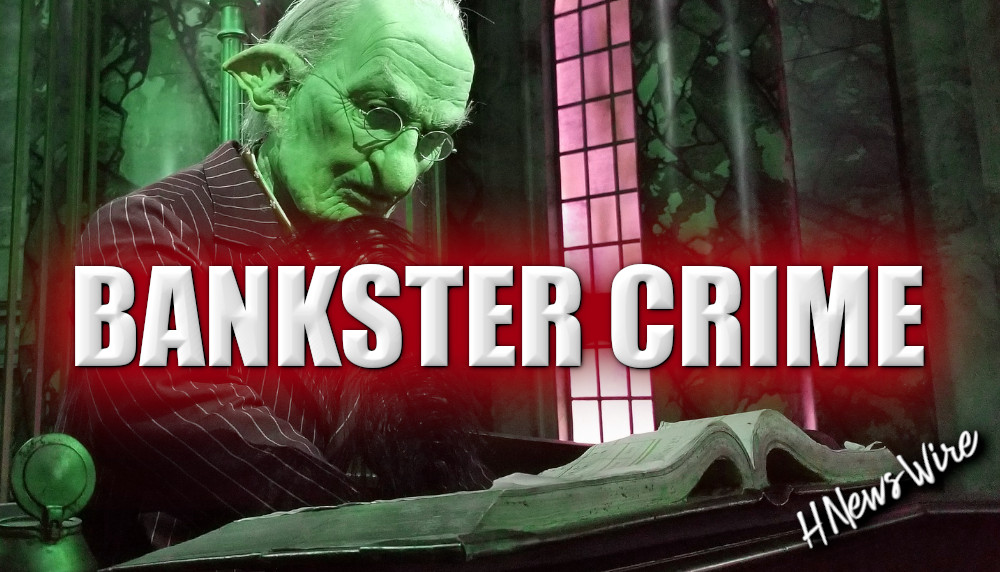 BanksterCrime: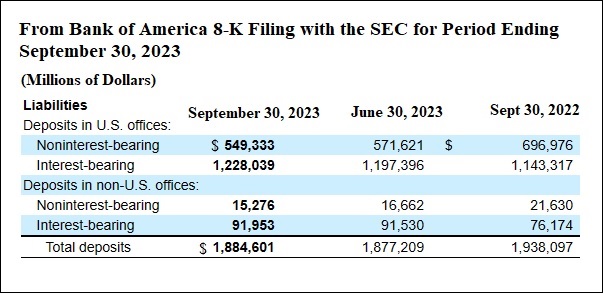 By Pam Martens and Russ Martens:
Bank of America is the second largest bank by assets in the United States, topped in assets by only JPMorgan Chase. Both mega banks have seen a steady decline in deposits since the first quarter of 2022. But the decline in deposits at Bank of America represents just 65 percent of the deposit outflows that have occurred at JPMorgan Chase in the past seven quarters. (Bank of America, as the chart above shows, did report a small uptick in deposits in the current quarter.)
At the end of the first quarter of 2022, Bank of America held $2.046 trillion in deposits. According to the 8-K filing the bank made with the Securities and Exchange Commission this morning, as of September 30, 2023 Bank of America's deposits had declined to $1.885 trillion, a shrinkage of $161 billion. In the same span of time, JPMorgan Chase shed $248.38 billion in deposits. (We have excluded the deposits gained by JPMorgan Chase from its purchase on May 1 of the failed First Republic Bank, so that we are making fair comparisons.)
The mega banks are unaccustomed to facing such fierce competition for deposits. As long as the Federal Reserve kept interest rates artificially low by setting its benchmark Fed Funds rate close to zero and buying back trillions of dollars of Treasury securities and agency mortgage-backed securities from the street (Quantitative Easing or QE), the mega banks had little to fear in the way of competition for deposits.
Today, short-term Treasury bills are yielding over 5 percent; credit unions are offering more than 5 percent on Certificates of Deposit; community and regional banks have also entered the arena to compete for deposits. Another major competitor has been money market mutual funds. On September 3, Yahoo! Finance reporter David Hollerith wrote this:
"Money-market fund assets reached a new all-time high this week as interest rates above 5% continue to attract investors at a time when the Federal Reserve appears determined to keep rates elevated for some time.
"About $14 billion poured into money-market funds in the week through August 30, according to data from the Investment Company Institute. Total assets reached $5.58 trillion, versus $5.56 trillion the previous week. It is the highest total since the data was first collected in 1992."
It should be pointed out that money-market funds are not FDIC-insured and have broken the buck.
The U.S. Treasury's Treasury Direct is also giving competition to banks as yields have soared on Treasury securities. Investors, small and large, can buy Treasury securities directly from the U.S. Treasury at TreasuryDirect.gov.
According to data provided by TreasuryDirect, new account openings in 2022 surged to a total of 2,956,790 from a total of 460,057 in 2021 – an increase of 543 percent in one year. Even more impressive, the total par value of the savings bonds and Treasury securities purchased in those accounts went from $9,711,113,646 in 2021 to $87,775,900,168 in 2022 – an 804 percent increase.
Deposit outflows are not the only thing the mega banks have to worry about. Bank of America included the following charts in its earnings presentation materials this morning, showing its growing net charge-offs and provisions for credit losses: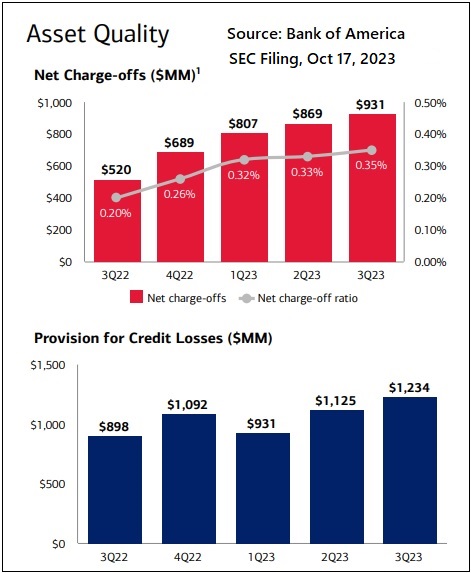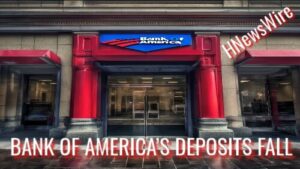 Revelation: A Blueprint for the Great Tribulation




Will Putin Fulfill Biblical Prophecy and Attack Israel?