Paul often clarified the difference between his ministry and that of false teachers by pointing out their greed. In 2 Corinthians 2:17 he wrote, "Unlike so many, we do not peddle the word of God for profit. On the contrary, in Christ, we speak before God with sincerity, as those sent from God." Peter also warned that one way to spot a modern-day money changer is to notice his or her fascination with financial gain (2 Peter 2:3). Jesus hated the money changers' exploitation of the devout two thousand years ago, and He still hates it. We may not have shady characters collecting temple taxes outside our places of worship, but we have them invading our homes through radio and television. We are wise to remember how Jesus reacted to such selfish swindlers. With no apologies, He drove them out of His Father's house. When we identify modern money-changer, we should do the same.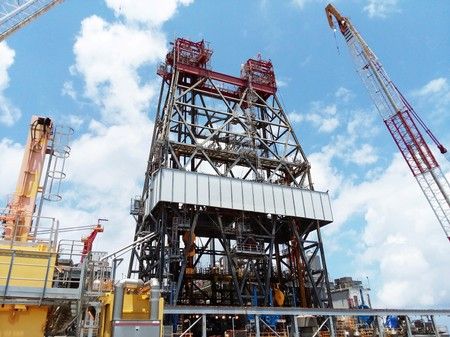 U.S. oil companies slash Gulf of Mexico production as the storm bears down
FILE PHOTO: A massive drilling derrick is pictured on BP's Thunder Horse Oil Platform in the Gulf of Mexico
HOUSTON (Reuters) – U.S. oil producers on Wednesday cut nearly a third of Gulf of Mexico crude output as what could be one of the first major storms of the Atlantic hurricane season threatened offshore oil production and began soaking Louisiana with heavy rains.
Fifteen production platforms and four rigs were evacuated in the north-central Gulf of Mexico, according to a U.S. regulator as oil firms moved workers to safety ahead of a storm expected to become a hurricane by Friday.
The withdrawals helped push U.S. oil futures <CLc1> up 4.5% to $60.43 a barrel on Wednesday and lifted gasoline futures more than 4% to the highest price since late May. The U.S. Gulf of Mexico produces 17% of U.S. crude oil and 5% of natural gas.
As the potential hurricane, to be named Barry, approached Louisiana, Governor John Bel Edwards on Wednesday declared a state of emergency, warning that up to 15 inches (38 cm) of rain could fall on parts of the Gulf Coast state. New Orleans was under a flash flood warning after receiving about 8 inches of rain early in the day.
Vermilion Parish, a coastal community, called for residents of some low-lying areas to evacuate.
A tropical depression is expected to form in the Gulf by Thursday, with the potential to strengthen to a hurricane by the weekend, according to the National Hurricane Centre. The system could produce a storm surge and heavy rainfall from Louisiana to the upper Texas coast.
The storm could drop up to 12 inches of rain along the Central Gulf Coast through next week, with up to 18 inches falling in some areas.
Exxon Mobil Corp <XOM.N>, ConocoPhillips <COP.N>, Anadarko Petroleum Corp <APC.N> and others withdrew staff and some cut production from deepwater platforms as a safety precaution.
The U.S. Bureau of Safety and Environmental Enforcement (BSEE), which regulates offshore drilling, said more than 600,000 barrels per day of Gulf oil production and 17% of the region's natural gas production were shut by producers by Wednesday morning.
Exxon has evacuated nonessential staff from three platforms in the Gulf, but anticipates the little effect on its production, spokeswoman Julie King said.
Anadarko, the third-largest U.S. Gulf producer by volume, said it is stopping oil and gas production and removing workers from its four central Gulf facilities: the Constitution, Heidelberg, Holstein and Marco Polo platforms. It said it is also evacuating nonessential staff from eastern Gulf platforms.
Royal Dutch Shell Plc <RDSa.L> expanded an earlier offshore evacuation to seven platforms and shut more production, the company said on Wednesday.
Operations at the Louisiana Offshore Oil Port, the only U.S. port where the largest crude tankers can load and unload, were normal on Wednesday morning, a spokeswoman said.
Oil refiners Motiva Enterprises [MOTIV.UL] and Marathon Petroleum Corp <MPC.N> said they were monitoring the developing storm and prepared to implement hurricane plans.
Motiva's Port Arthur, Texas, the refinery was one of four refineries in east Texas inundated by more than 5 feet (1.52 m) of rain in a single day during 2017's Hurricane Harvey.
Chevron, Phillips 66 <PSX.N>, Exxon and Royal Dutch Shell were preparing for heavy rain and wind at refineries along the Gulf Coast, company representatives said. Exxon reported operations at its Gulf Coast refineries were normal on Wednesday morning.
Chevron has shut production at five Gulf platforms – Big Foot, Blind Faith, Genesis, Petronius and Tahiti – and has begun to evacuate all workers at those offshore facilities, spokeswoman Veronica Flores-Paniagua said.
BP Plc <BP.L>, the second-largest oil producer in the Gulf by volume, is shutting all production at its four Gulf platforms – Thunder Horse, Atlantis, Mad Dog, and Na Kika – which produce more than 300,000 barrels of oil equivalent per day.
BHP Group Ltd <BHP.AX> was also removing staff from its two offshore energy platforms, according to a company statement.
Two independent offshore producers, Fieldwood Energy LLC, and LLOG Exploration Company LLC declined to comment.
The Atlantic hurricane season runs from June through November. Source
The money changers in the temple courts were similar to tax collectors in that they extorted money from their own people. They were more than ordinary businessmen. They were seeking to profit financially from the worship of God. Wherever passion and zeal are found, there will also be those who seek to profit from that zeal. Paul wrote to Timothy about such people, false teachers who found a way to make a fortune off the gospel (1 Timothy 6:5). Modern versions of the money changers flood the airways, promising to exchange your hard-earned dollars for blessings, healing, and God's favor. For a suggested donation, they will supposedly pray for you or promise virtually anything you want. For another twenty bucks, they will sell you a book about how to wrangle prosperity, health, or spiritual insights from God. And, like the simony of the first-century money changers, the practices of modern religious price gougers only aid those worshipers who have enough cash to purchase their wares.
StevieRay Hansen
Editor, Bankster Crime
MY MISSION IS NOT TO CONVINCE YOU, ONLY TO INFORM…
#Fraud #Banks #Money #Corruption #Bankers,#Powerful Politicians, #Businessmen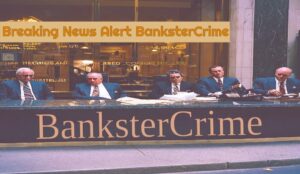 BanksterCrime: By Pam Martens and Russ Martens: September 25, 2023 ~ On March 30, 2022, two highly troubling events occurred: (1) Fed data showed that unrealized…
Read More
Posted in
#TWITTER CENSORS CHRISTIAN
,
b/d of crude
,
Bank Corruption
,
Bank Fraud
,
Bankers
,
Biblical Prophecy
,
Christian News
,
end times
,
Financial news
,
God's Warriors
,
Godless Men
,
Greed
,
Lawlessness
,
Oil Prices
,
Powerful Politicians, Businessmen
,
suppression of the truth
,
Tribulation
,
U.S Led Forces