Greed and a desire for riches are traps that bring ruin and destruction. "The love of money is a root of all kinds of evil," and Christians are warned, "Do not put your trust in wealth" (see 1 Timothy 6:9-10, 17-18). Covetousness, or having an excessive or greedy desire for more, is idolatry. Ephesians 5:5 says, "For of this you can be sure: No immoral, impure or greedy person – such a man is an idolater – has any inheritance in the kingdom of Christ and of God." The principle to remember is contained in Hebrews 13:5: "Keep your lives free from the love of money and be content with what you have, because God has said, 'Never will I leave you; never will I forsake you.'
This doesn't exactly inspire confidence in WeWork's (otherwise known as "the We Company") upcoming IPO.
An investigation by the Wall Street Journal has determined that WeWork co-founder Adam Neumann has cashed out more than $700 million from the company using a mix of stock sales and debt.
If that number seems unusually large, that's because it is: CEOs typically wait for their company to go public before cashing out. And though WeWork is still private and doesn't publicize sales of stock by insiders, WSJ's reporters believe that Neumann's cash-out is one of the largest on record for a tech unicorn headed for a public offering.
Neumann remains the CEO of WeWork as well as its single largest shareholder, but the exact size of his holdings in the company now is unknown. As of the end of 2017, a company that controlled Neumann's and his co-founder's stake in the company showed they held a combined 30% of the company, which was recently valued at $47 billion during its latest round of investment in January. The company plans on moving ahead with the listing later this year or early next year and initially filed confidentially for an IPO late last year.
Of course, such a large cash-out raises questions about the CEO's confidence in the company and calls the lofty valuation for the cash-burning machine that is WeWork into question – particularly given the vulnerabilities built-in to the company's business model that has been highlighted by skeptics. Like Lyft and Uber before it, WeWork's losses have doubled alongside its revenues.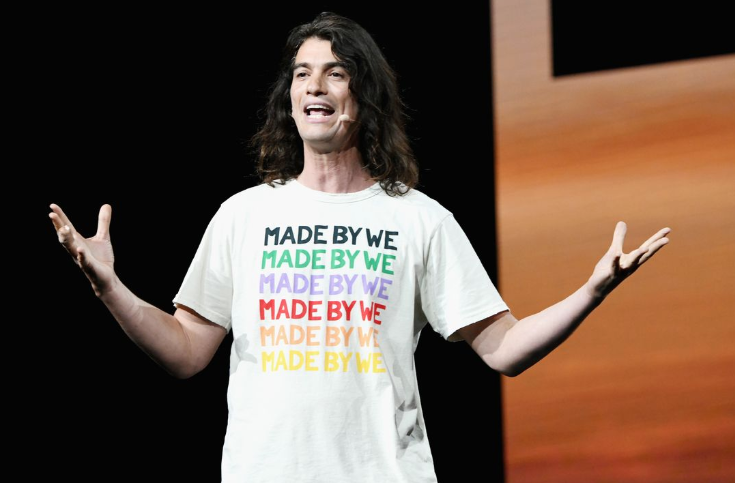 Since WeWork was founded nine years ago, Neumann has invested heavily in real estate. He spent more than $80 million for at least five homes and his other investments include commercial properties and stakes in startups. He has also given away more than $100 million, according to people familiar with his finances.
It's extremely rare for a private company to publicize a top executive selling stock prior to an IPO. But among the instances that are well known, Neumann's transactions rank among the largest in dollar terms.
Neumann, who is 40 years old, has sold shares during most investment rounds since 2014 – though he didn't take money out during the January round. He is also taking out loans of several hundred million dollars backed by his shares. On the other hand, he has used some of the proceeds to purchase more shares by exercising stock options early, a sign that he's also betting on shares to move higher. As Neumann has pulled money out, holders of junk bonds issued by the company have gotten hammered.
The majority of Neumann's wealth remains connected to the company. JP Morgan has been the bank helping him borrow against his shares and the bank has separately been working with the company to structure a debt deal that would raise as much as $3 billion to $4 billion ahead of its IPO.
Venture capitalists have been skeptical of pre-IPO sales by executives. Most investors would prefer that insiders keep their wealth tied to the company until it goes public so as to keep their interests totally aligned. But how was Neumann able to pull off such a massive cash-out? Though he was speaking generally and not specifically about Neumann and WeWork, Bill Gurley, a partner at WeWork investor Benchmark, said: "…the practice is driven by investors who come in at the late stage and they beg the founders to take liquidity because they're trying to get more ownership."
On the other hand, it isn't 100% unheard of for founders to sell small chunks of their shares in very late stage financing deals.
"Over the last five years there's been a growing level of comfort among the VC community to let founders sell,"said Andrea Walne, a partner at Manhattan Venture Partners.
But several of the most recent examples of founders selling prior to the IPO paint an ugly picture:
Some of the other largest publicly-known sales of stock before an IPO include Zynga Inc.founder and CEO Mark Pincus's deal to take more than $109 million off the table before the social-gaming company's 2011 IPO. Eric Lefkofsky, as executive chairman and co-founder of Groupon Inc., sold more than $300 million in Groupon stock before the 2011 IPO. Both deals attracted criticism at the time, particularly after the companies' stocks later traded at lower valuations.

More recently, Snap Inc. disclosed that co-founder Evan Spiegel sold roughly $8 million in stock and borrowed $20 million from the company before its 2017 IPO. Slack Technologies Inc. disclosed CEO Stewart Butterfield sold $3.2 million of stock between September 2016 and Slack's June public listing.
Since 2013, Newman has bought four homes in and around New York City and paid $21 million for a 13,000 square-foot house in the Bay Area that has a guitar-shaped room.
Some savvy real-estate investors are already sounding the alarm about Neumann and WeWork.
I spoke to the most successful real estate investor I know. Very, very wealthy. Said he thinks WeWork is a fraud that is guaranteed to go bust. https://twitter.com/ScottMAustin/status/1151953582075236352 …Scott Austin✔@ScottMAustinWeWork's co-founder/CEO Adam Neumann has cashed out at least $700 million through stock and debt ahead of a possible IPO

An eyebrow-raiser from @eliotwb @maureenmfarrell @PreetaTweets https://www.wsj.com/articles/wework-co-founder-has-cashed-out-at-least-700-million-from-the-company-11563481395 …4225:02 PM – Jul 18, 2019Twitter Ads info and privacy131 people are talking about this
But one doesn't exactly need to be a genius to figure out that Neumann is essentially a con artist. He has raided his own company's coffers by buying properties and leasing them to WeWork. He has also used the company's money to support a private elementary school for his own kid. Don't let the company's PR machine – which has sought to portray Neumann as a workaholic savant – fool you.
Then again, if one "community adjusts" Adam Neumann's cash-out (the company's preferred term for the financial engineering it has applied to its income statement)…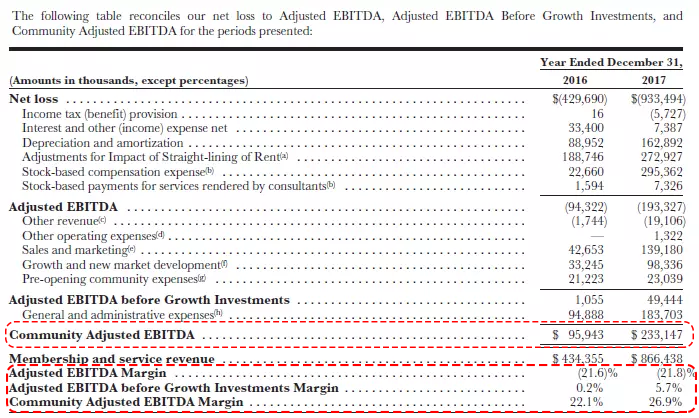 Source …they could determine that he's actually putting money into the company.
StevieRay Hansen
Editor, Bankster Crime
MY MISSION IS NOT TO CONVINCE YOU, ONLY TO INFORM…
#Fraud #Banks #Money #Corruption #Bankers,#Powerful Politicians, #Businessmen