The global pig population is being absolutely decimated by a disease that does not have a cure. African Swine Fever, also commonly referred to as "Pig Ebola", is raging out of control in dozens of countries all over the globe. It has a mortality rate of close to 100 percent, and once it hits an area even the pigs that are able to survive the disease are killed off in order to prevent it from spreading elsewhere. Unfortunately, African Swine Fever just continues to pop up in more locations. As you will see below, it is now sweeping through the heavily-populated nation of Indonesia.
Nearly 270 million people live in Indonesia, and they are heavily dependent on the pork as a source of protein. But of course, the same thing could be said about almost all of the countries where African Swine Fever is currently raging.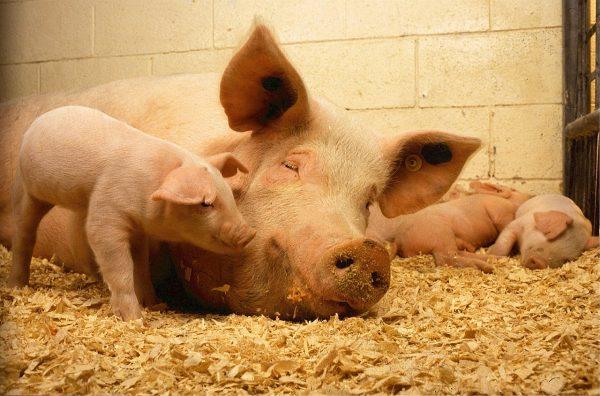 The mainstream media in the U.S. hasn't been properly reporting on this crisis, and that is likely because this disease has not spread to our nation yet.
But let there be no doubt – this is truly a crisis of Biblical proportions. In fact, it has been estimated that this epidemic has already killed about one-fourth of the world's pigs. The following comes from an Australian news source…
Experts say the disease has wiped out an estimated 25 per cent of the world's pig population.

The fever has been reported in around 50 countries, including China, Belgium, Slovakia, Cambodia, North Korea, South Korea, Vietnam and the Philippines.
And this same figure is being quoted by the New York Daily News…
African swine fever has been reported in nearly 50 nations — including China, South Korea, the Philippines and Belgium — and it's causing an incredible crisis on a global scale. Alarmingly, more than one-quarter of Earth's pigs have been wiped out by the virulent disease.
This should be front-page news all across America, but of course, the big news networks really don't want to talk about anything other than the impeachment of Donald Trump these days.
Unfortunately, everyone on the entire planet is going to feel the pain of this crisis as it continues to intensify. We are potentially facing a serious global pork shortage, and this disease continues to pop up in new areas. When it recently began spreading in Indonesia, it made headlines all over the globe. The following comes from Reuters…
Nearly 30,000 pigs have died from African swine fever (ASF) in Indonesia's North Sumatra province as of Dec. 15, causing millions of dollars of economic losses as authorities try to quarantine the areas affected, officials said on Wednesday.

The Agriculture Ministry has declared an outbreak of the highly contagious virus in the country and said it is contained only in some parts of North Sumatra, minister Syahrul Yasin Limpo told reporters.
Asian countries rely very heavily on pork to feed their populations, and the severe losses that we are witnessing are not going to be easy to replace. At this point, Indonesia has become the 11th Asian nation where African Swine Fever is spreading…
To date, 11 Asian countries have reported outbreaks since August 2018, including Indonesia, Mongolia, North Korea, South Korea, China, the Philippines, Vietnam, Laos, Cambodia, Myanmar and Timor-Leste.
The epicenter for this crisis is in China. The Chinese produce and eat more pork than anyone else in the world, and it was recently projected that their hog herd "will likely shrink by 55% by the end of the year" due to this disease…
China's hog herd fell by half in the first eight months of 2019 due to a devastating outbreak of African swine fever and will likely shrink by 55% by the end of the year, analysts at Rabobank said on Wednesday.
As I detailed in a previous article, it has been estimated that 150 million pigs have already died in China.
To put that in perspective, there are only about 70 million pigs in the United States right now.
So you could kill every pig in the United States twice and you would still not get to the total that has already died in China because of this epidemic.
Needless to say, pork prices are absolutely soaring in China. They have more than doubled since this time last year, and in November we saw another huge jump in Chinese food inflation. The following comes from Zero Hedge…
As has been the case for the past year, the culprit behind the headline CPI surge was food inflation, which accelerated further to a record +19.1% in November from +15.5% in October, primarily on higher inflation in fresh vegetable and pork prices.
So what is the bottom line?
The bottom line is that this is an extremely serious threat to the global food supply.
Beef, chicken, fish, and pork are the four main global sources of protein, and right now pork is already in very short supply in some parts of the world.
And of course, this comes at a time when global weather patterns are going absolutely nuts and we have seen disastrous harvest seasons all over the planet.
We are entering the time of "the perfect storm", and most people have absolutely no idea what is ahead of us.
Even if you don't eat pork, this is a story that you need to keep a very close eye on, because this is going to push up food prices everywhere. Demand for beef, chicken, and fish will increase as pork becomes more expensive and consumers turn to other options. And in some of the poorer places around the world, some impoverished families may have to start cutting meat out of their diets entirely.
We have never seen a crisis quite like this in any of our lifetimes. Despite all of our advanced technology, we are still dependent on farmers to produce the food that we eat, and this is truly an existential crisis for the entire global pork industry.
There is no way to spin this to make it sound nicer. Many are hoping that this outbreak will subside eventually, but right now it doesn't look like that will happen.
And once this disease reaches the United States, we will start to experience the same panic that is already sweeping through nearly 50 other nations around the globe.
StevieRay Hansen
Editor, Bankster Crime
"debtors are hostage to their creditors."
MY MISSION IS NOT TO CONVINCE YOU, ONLY TO INFORM YOU…
The Birth Pains Are Growing Stronger….
"Unless God has raised you up for this very thing, you will be worn out by the opposition of man and devils"…
My name is Steve Meyers and I need to share a vision and warning that the Lord showed me back in April 2007….
Many of you will ask why I waited so long to share the warning. I didn't. I shared the story with everyone that would listen from pastors to friends to family to colleagues. Immediately following the initial vision, I called a close friend. I told him to sit down that I had something to tell him. I needed it documented as I knew this was supernatural and from God. As I witness events unfolding today, I need to share the vision again.
The risk of loss in trading futures and options on futures can be substantial. The author does not guarantee the accuracy of the above information, although it is believed that the sources are reliable and the information accurate. The author assumes no liability or responsibility for direct or indirect, special, consequential or incidental damages or for any other damages relating or arising out of any action taken as a result of any information or advice contained in this commentary. The author disclaims any express or implied liability or responsibility for any action taken, which is solely at the liability and responsibility of the user. Steve Meyers, StevieRay Hansen
People's hearts are troubled, their minds are in a state of confusion, the Bible tells us a time of great delusion that will come upon the people, that time has arrived, the politicians must come up with more significant and more believable lies in order to bring on the antichrist, we have entered the doorstep Tribulation.
"Unless God has raised you up for this very thing, you will be worn out by the opposition of man and devils"… Source: HNewsWire Bankster ZeroHedge
Tagged Under: #Fraud #Banks #Money #Corruption #Bankers,#Powerful Politicians, #Businessmen