Late last year, data released by the PBOC and the Russian Central Bank shone a light on a disturbing – at least, for the US – trend: As the Trump Administration ratcheted up sanctions pressure on Russia and China, both countries and their central banks have substantially "diversified" their foreign-currency reserves, dumping dollars and buying up gold and each other's currencies.
Back in September, we wrote about the PBOC and RCB building their reserves of gold bullion to levels not seen in years. The Russian Central Bank became one of the world's largest buyers of bullion last year (at least among the world's central banks). At the time, we also introduced this chart.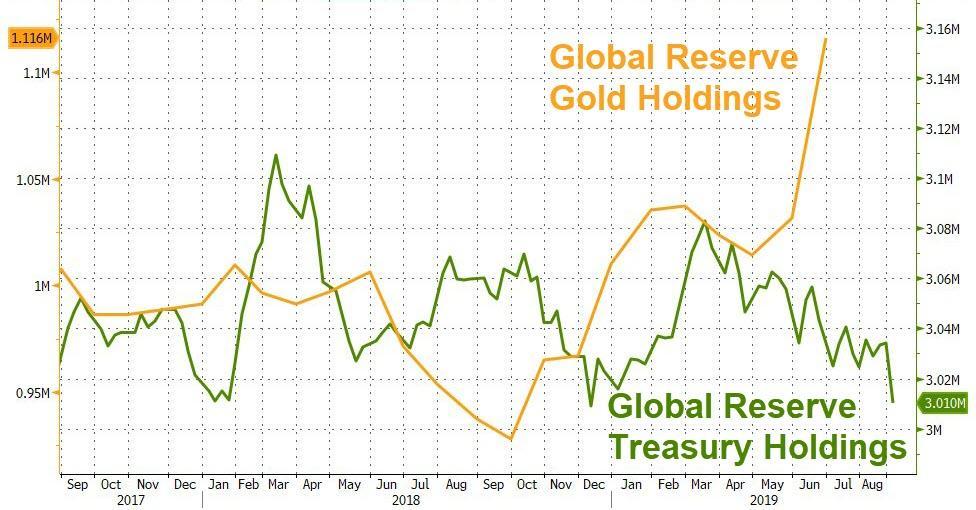 We've been writing about the impending demise of the greenback for years now, and of course we're not alone. Some well-regarded economists have theorized that the fall of the greenback could be a good thing for humanity – it could open the door to a multi-currency basket, or better yet, a global current (bitcoin perhaps?) – by allowing us to transition to a global monetary system with with less endemic instability.
Though, to be sure, the greenback is hardly the first "global currency".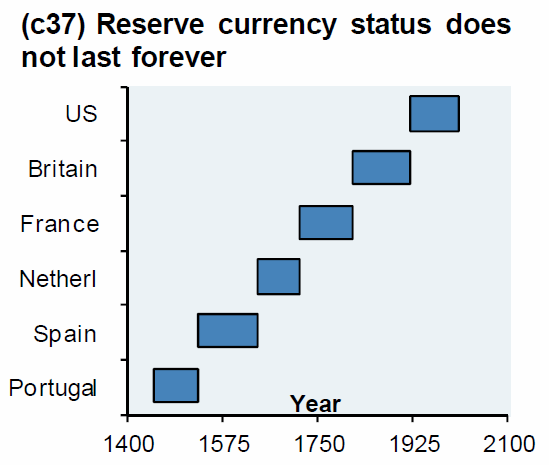 Falling confidence in the greenback has been masked by the Fed's aggressive buying, as central bankers in the Eccles Building now fear that the asset bubbles they've blown are big enough to harm the real economy, so we must wait for exactly the right time to let the air out of these bubbles so they don't ruin people's lives and upset the global economic apple cart. As the coronavirus outbreak has taught us, that time may never come.
But all the while, Russia and China have been quietly weening off of the dollar, and instead using rubles and yuan to settle transnational trade.
Since we live in a world where commerce is directed by the whims of the free market (at least, in theory), the Kremlin can just make Russian and Chinese companies substitute yuan and rubles for dollars with the flip of a switch:as Russian President Vladimir Putin once exclaimed, the US's aggressive sanctions policy risks destroying the dollar's reserve status by forcing more companies from Russia and China to search for alternatives to transacting in dollars, if for no other reason than to keep costs down (international economic sanctions can make moving money abroad difficult).
In 2019, Putin gleefully revealed that Russia had reduced the dollar holdings of its central bank by $101 billion, cutting the total in half.
And according to new data from the Russian Central Bank and Federal Customs Service, the dollar's share of bilateral trade between Russia and China fell below 50% for the first time in modern history.
Businesses only used the greenback for roughly 46% of settlements between the two countries. Over the same period, the euro constituted an all-time high of 30%. While other national currencies accounted for 24%, also a new high.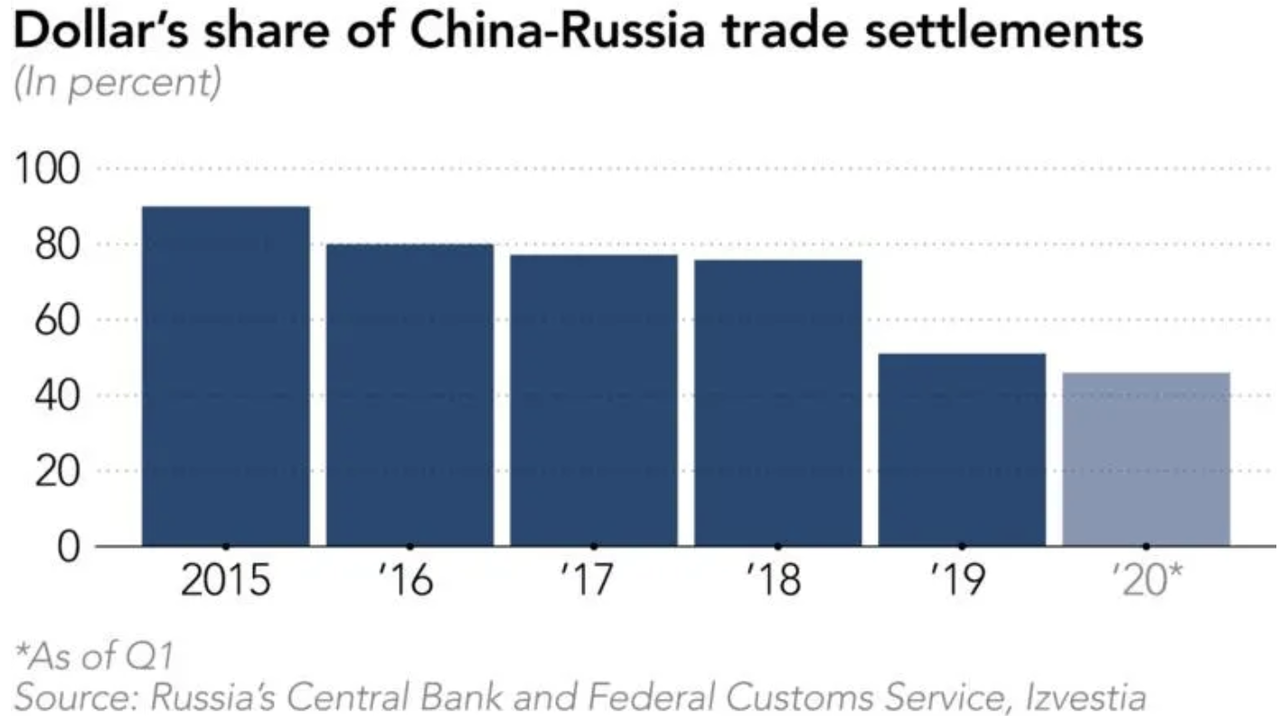 As one 'expert' told the Nikkei Asian Review, it's just the latest sign that Russia and China are forming a "de-dollarization alliance" to diminish the economic heft of Washington's sanctions powers, and its de facto control of SWIFT, the primary inter-bank messaging service via which banks move money from country to country.
The shift is happening much more quickly than the US probably expected. As recently as 2015, more than 90% of bilateral trade between China and Russia was conducted in dollars.
Alexey Maslov, director of the Institute of Far Eastern Studies at the Russian Academy of Sciences, told the Nikkei Asian Review that the Russia-China "dedollarization" was approaching a "breakthrough moment" that could elevate their relationship to a de facto alliance.

"The collaboration between Russia and China in the financial sphere tells us that they are finally finding the parameters for a new alliance with each other," he said. "Many expected that this would be a military alliance or a trading alliance, but now the alliance is moving more in the banking and financial direction, and that is what can guarantee independence for both countries."

Dedollarization has been a priority for Russia and China since 2014, when they began expanding economic cooperation following Moscow's estrangement from the West over its annexation of Crimea. Replacing the dollar in trade settlements became a necessity to sidestep U.S. sanctions against Russia.

"Any wire transaction that takes place in the world involving U.S. dollars is at some point cleared through a U.S. bank," explained Dmitry Dolgin, ING Bank's chief economist for Russia. "That means that the U.S. government can tell that bank to freeze certain transactions."
The process gained further momentum after the Donald Trump administration imposed tariffs on hundreds of billions of dollars worth of Chinese goods. Whereas previously Moscow had taken the initiative on dedollarization, Beijing came to view it as critical, too.

"Only very recently did the Chinese state and major economic entities begin to feel that they might end up in a similar situation as our Russian counterparts: being the target of the sanctions and potentially even getting shut out of the SWIFT system," said Zhang Xin, a research fellow at the Center for Russian Studies at Shanghai's East China Normal University.
Receive a daily recap featuring a curated list of must-read stories.
At times, Russia has prioritized use of the yuan over its own currency in the hopes that his would push Beijing to become more "assertive" in establishing the yuan as an internationalized currency. While the yuan was added to a IMF basket of reserve currencies a few years back, Beijing's unwillingness to take its hand off the wheel when it comes to managing the currency has stymied its internationalization.
Russia's push to accumulate yuan is not just about diversifying its foreign exchange reserves, Maslov explained. Moscow also wants to encourage Beijing to become more assertive in challenging Washington's global economic leadership.

"Russia has a considerably more decisive position toward the United States [than China does]," Maslov said. "Russia is used to fighting, it does not hold negotiations. One way for Russia to make China's position more decisive, more willing to fight is to show that it supports Beijing in the financial sphere."
Six years have passed between Russia and China opened FX swap lines between their central banks in 2014. That three year deal was expanded in 2017.
While trying to assess the long-term risk, remember: Ray Dalio has apparently assigned a whole team of publicists to help spread his concerns about the potential fallout from a US-China "capital war". It's worth remembering that China has far more financial firepower with which to vex the US than many pundits are willing to acknowledge.
Source: ZeroHedge
StevieRay Hansen
Editor, BankstersCrime
God often uses men who are not of the best moral character. Pharaoh, Nebuchadnezzar, Cyrus, Herod, and Trump (amongst others), to accomplish His will in events He orchestrates during human history. We either trust the sovereignty of God or we don't. Nothing happens apart from Him…
The best index to a person's character is how he treats people who can't do him any good, and how he treats people who can't fight back…
The Birth Pains Are Growing Stronger….
One of the signs of ruling class collapse is when they can no longer enforce the rules that maintain them as a ruling class. When the Romans started making exceptions to republican governance, it was a matter of time before someone simply decided the rules no longer applied to them. Perhaps the robot historians will consider Obama our Marius or Sulla. Maybe that person is in the near future. Either way, the rule of law is over and what comes next is the rule of men.
"Don't piss down my back and tell me it's raining." Outlaw Josey Wales
This is biblical prophecy playing out as it should, for those of you who think you will control my editorial, you're wrong (you Antifa thugs, mama boys, basement warriors) your threats are meaningless, God's word comes first, you will not intimidate me, the truth is–I would have to respect your opinion before I was offended, obviously, I do not respect your opinion, nor your lawlessness
WE NOW LIVE IN A WORLD THAT IS PURE FABRICATION