Deer in Headlights Chaos in Credit Markets: Crypto Soars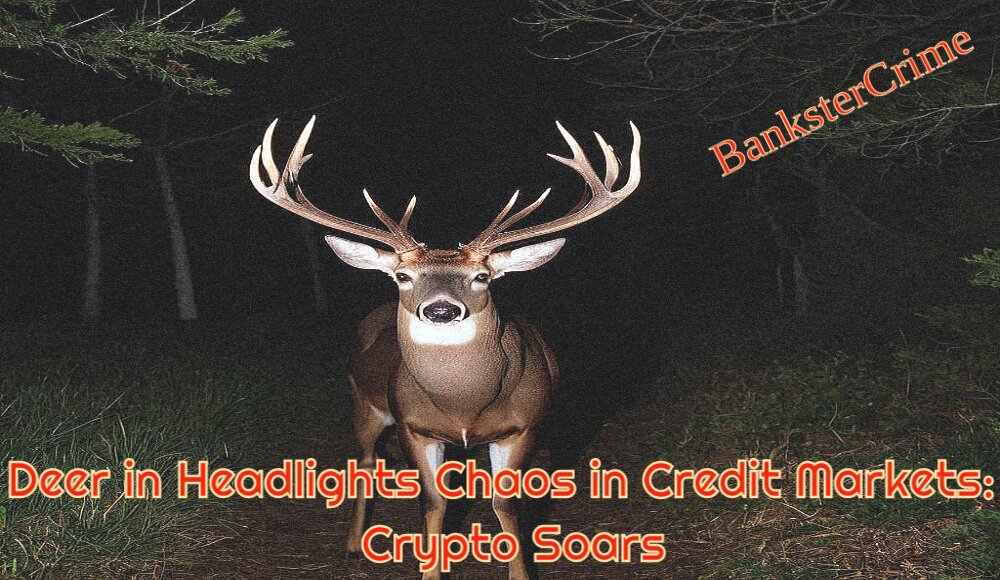 BanksterCrime:
Well that was a day... Almost time to trot out the 'deer in headlights'...
A double-whammy of a 30Y TSY auction bloodbath and Powell's considerably more hawkish-than-expected tone prompted bonds and stocks to be clubbed like a baby seal as the dollar soared...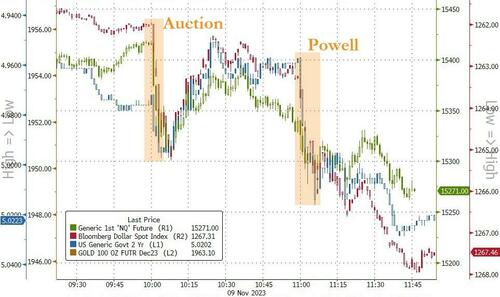 Source: Bloomberg
Did Powell finally notice that his words at the FOMC about how the market is tightening financial conditions for them prompted a dramatic easing of financial conditions...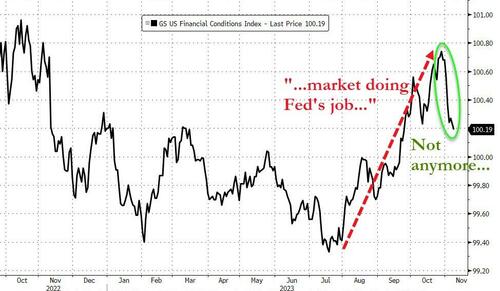 Source: Bloomberg
Powell broke the multi-decade win-streak in S&P and Nasdaq...
Weakness in stocks hit at the cash open - after creeping higher overnight - the auction's spike in yields sent stocks lower and then just as dip-buyers stepped in, Powell punched them in the face, taking stocks to the day's lows...
"Most Shorted" stocks were monkey-hammered lower, erasing the entire post-FOMC/Payrolls squeeze...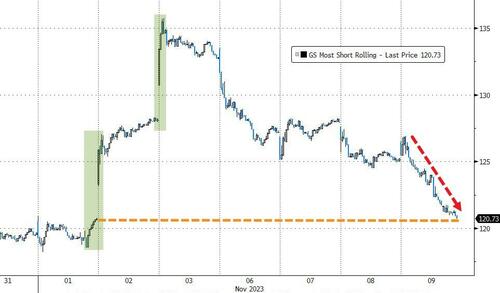 Source: Bloomberg
Regional Banks continue to give back the post-Bill-Gross "knife-catch" rally...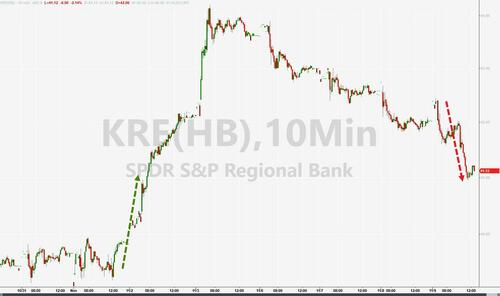 Treasury yields were higher across the whole curve with the long-end underperforming...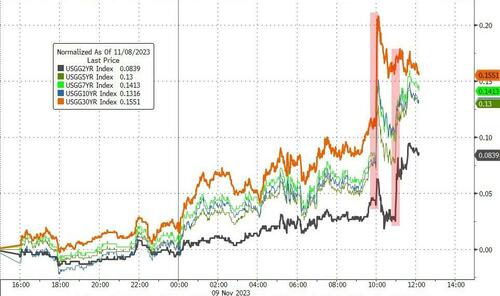 Source: Bloomberg
This was the biggest daily jump in the 30Y Yield since March 2020...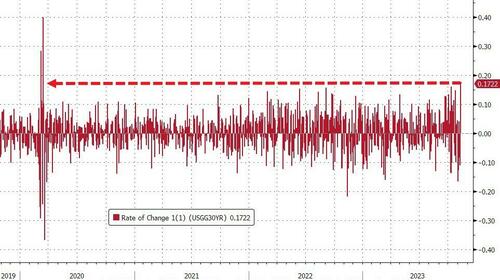 Source: Bloomberg
The 2Y Yield broke back above 5.00%
Source: Bloomberg
As one veteran bond trader MSG'd us: "this is a shitshow, liquidity is disastrous and the auction is the canary in the coalmine... there's a crisis brewing under everyone's nose."
Treasury Liquidity is indeed a "disaster"...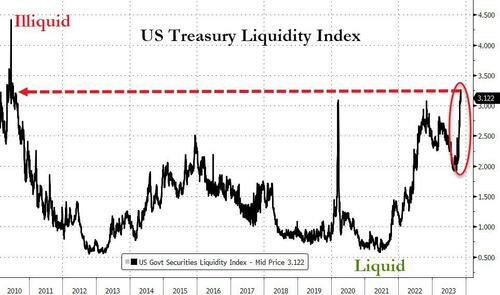 Source: Bloomberg
But we note, 'they' have an excuse ready.
As The FT reported that a ransomware attack on the Industrial and Commercial Bank of China has disrupted the US Treasury market, according to market participants.
The attack prevented ICBC from settling Treasury trades on behalf of other market participants, according to traders and banks.

"This is a large party on [the Fixed Income Clearing Corporation], so certainly of major concern," said an executive at a large bank that clears US Treasuries.

"And potentially impacting liquidity of US Treasuries."

ICBC was starting to restore services as of Thursday afternoon, according to some of the people briefed on the incident.
The problem is - for this narrative - that Treasury liquidity worsened this afternoon - AFTER ICBC was back...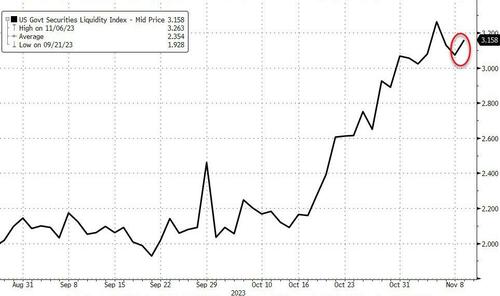 Source: Bloomberg
Usage of The Fed's Reverse Repo facility dropped back below $1 trillion today for the first time since Aug 2021...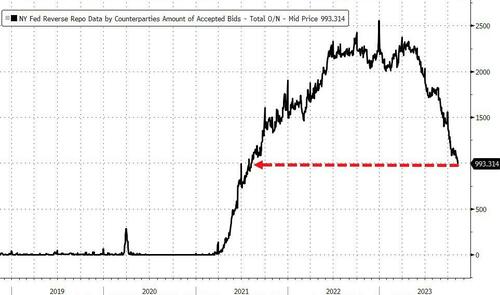 Source: Bloomberg
As we highlighted in a very detailed recent report, the accelerating drain in reverse repo is the only thing keeping the wheels in the bond market from coming off. The alternative, well...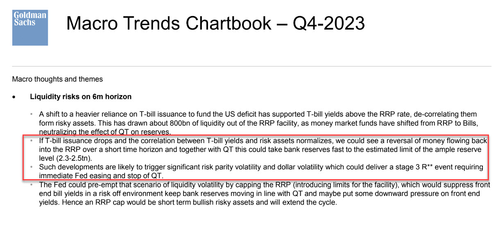 The sovereign CDS market continues to accelerate its fears about USA credit risk...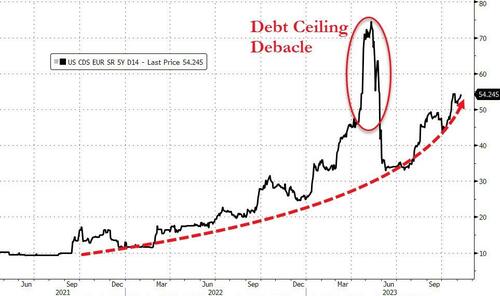 Source: Bloomberg
Powell's comments pushed the market's odds of a first rate-cut back from June to July (after the FOMC and payrolls pulled it closer)...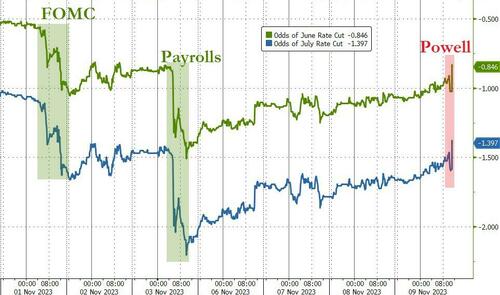 Source: Bloomberg
And the dollar rallied above last week's payrolls levels, but remains down from the FOMC...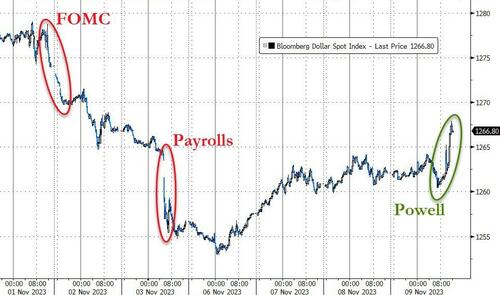 Source: Bloomberg
The other big mover today was crypto with bitcoin exploding higher on ETF approval hopes (among other things), and Ethereum spiking on BlackRock ETF filing.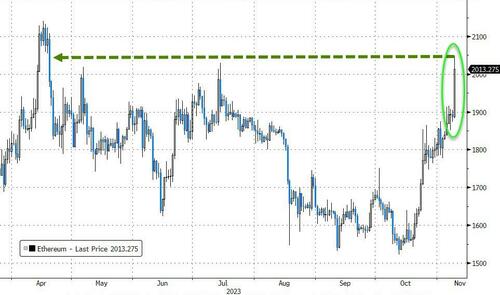 Source: Bloomberg
Bitcoin surged to almost $38,000 - erasing all losses since the Terra stablecoin crisis started over 18 months ago...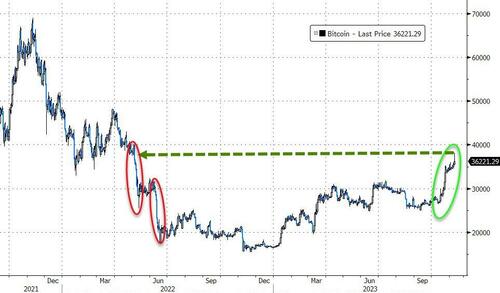 Source: Bloomberg
Most notably there appeared to be a regime change in the ETH/BTC cross...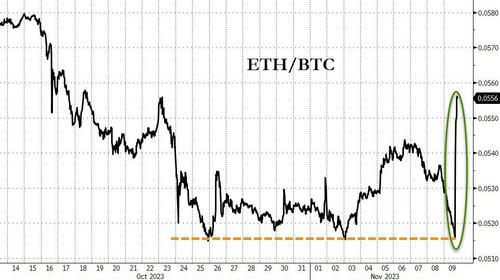 Source: Bloomberg
Oil prices managed to hold on to modest gains with WTI testing a $77 handle at the highs but falling back to its lows in the afternoon...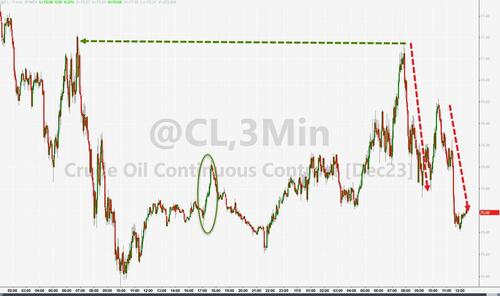 Perhaps more notably, gold managed gains despite the surge in the dollar with futures finding support at $1950...
Finally, the market now seems convinced that global developed country central planners are done hiking rates. As Bloomberg's hawk/dove indicator shows, we are on the cusp of pricing in rate-cuts globally...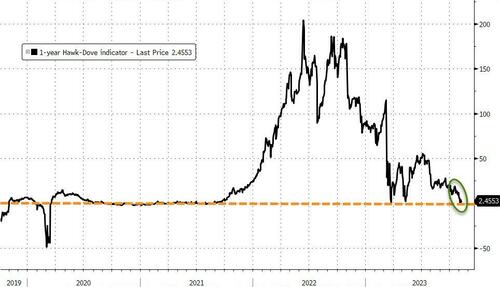 Source: Bloomberg
It's mostly US and Europe, but also includes the UK, Australia and Japan, but as Bloomberg's Garfield Reynolds reports, for the first time in six years, developed-market swaps aren't pricing in a rate hike in the next six months.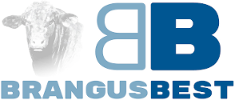 Beef in Bulk: Half, Quarter, or Eighth Cow Shipped to Your Door Anywhere within Texas Only
We do not mRNA vaccinate our cattle, nor will we ever!
Grass Fed, Grass Finished Beef!
Here is a discount code for HNewsWire readers to get 20 percent off first order:
HNEWS20
From Our Ranch to Your Table
Revelation: A Blueprint for the Great Tribulation




Will Putin Fulfill Biblical Prophecy and Attack Israel?